OUR LATEST CREATION 60CM FILLER PLUS POLE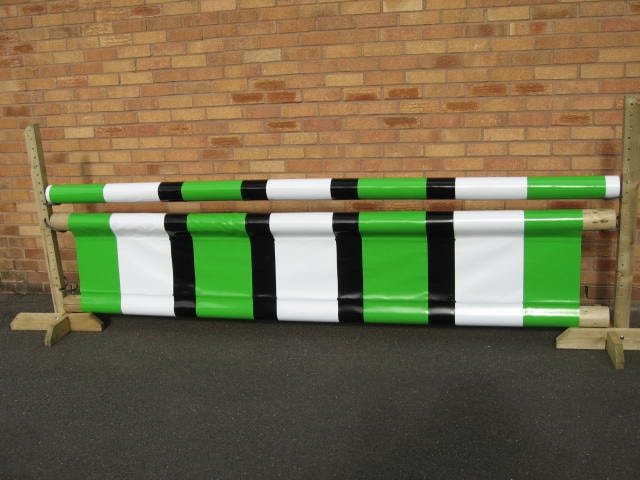 PLEASE SCROLL DOWN TO SEE MORE CREATIONS !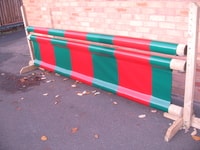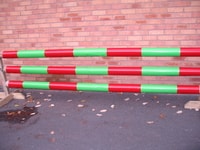 YOU CAN CHOSE ANY 2 COLOURS OF YOUR CHOICE IF YOU ADVERTISE ON YOUR FILLERS-MANY OPTIONS AVAILABLE QUALITY PRINTING AT A SPECIAL RATE THROUGH US WITH ONE OF OUR SIGN CUSTOMERS.
POLE COVERS & FILLERS ARE HERE !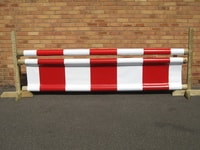 RED / WHITE 60CM FILLER + POLE
BLACK / WHITE 60CM FILLER + POLE sleeve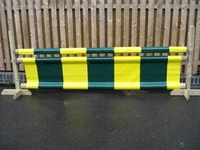 LT YELLOW / DK GREEN FILLER + POLE SLEEVE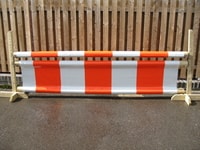 ORANGE / LT GREY FILLER + POLE SLEEVE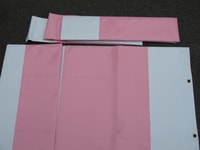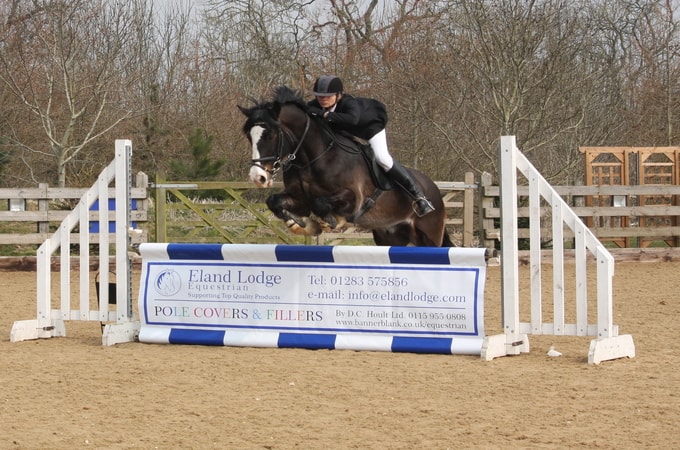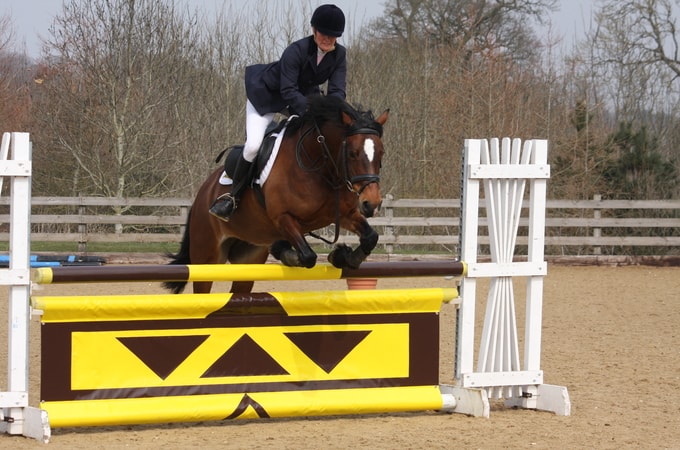 FILLERS & POLE SLEEVES -WITH MANY WILD DESIGNS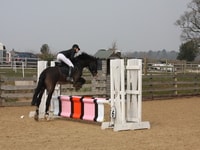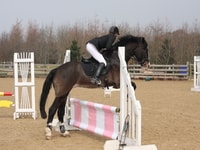 These pole sleeves and fillers are made of a very tough durable 700 grm/mt pvc. They can be easily washed and will not fade. You will never again have to paint another pole or touch up a filler! We have a huge range of colours and particular colours/ patterns can be made to order. The pole sleeves can be easily slipped on and off with the aid of a loop at one end. They fit snugly and are the standard sizes for 3 mt wooden and plastic poles. The sleeves can also be made to accommodate longer poles such as 3.6 mt. The different range of colours means that the sleeves and fillers can be swapped for a different look. The fillers come in different heights and can be made higher or lower with the addition of a pole and sleeve. The durability of these products mean that they should last 5 years or longer.
GO TO www.jumpfillers.co.uk
SPECIAL FILLERS MADE TO ORDER
[price depending on design]
NEXT DAY DELIVERY ONLY £8.50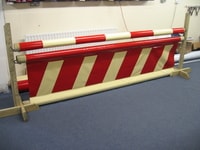 RED/ CREAM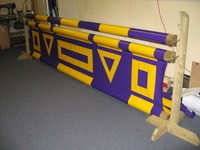 3.6 MT SET UP PURPLE/YELLOW INC POLE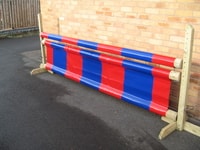 RED/BLUE 60CM + POLE COVER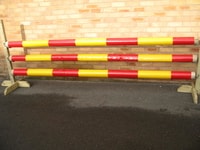 YELLOW/RED 60CM +POLE [3MT]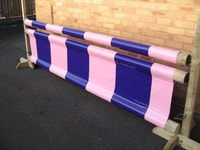 PURPLE / PINK FILLER SET [3MT]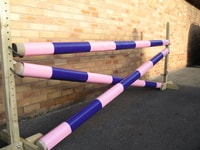 PURPLE / PINK POLE SET [3MT]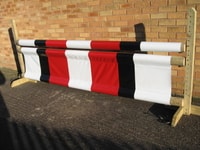 NEW KID ON BLOCK 3MT X 60CM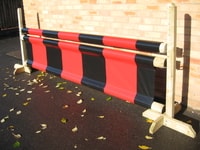 BLACK/RED 3MT X 60CM PLUS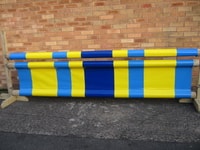 LT BLUE/ YELLOW / DK BLUE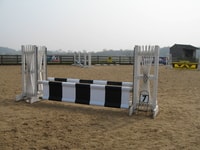 FILLER 60CM [3MT]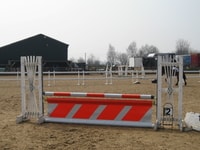 S/D FILLER 70CM [3MT] POLE COVER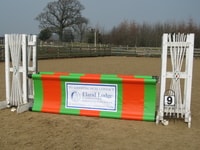 ADVERT FILLER 90CM POLE SLEEVE [3MT]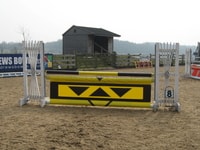 90CM FILLER SP/DESIGN WITH POLE COVER [3MT]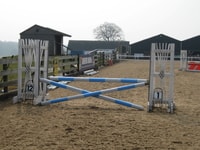 3 X 3MT POLES COVERS [3MT] BLUE / GREY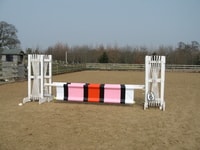 SP DESIGN 60CM WITH POLE COVER [3MT]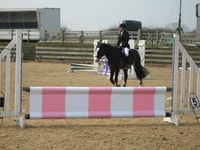 60CM POLE FILLER [3MT]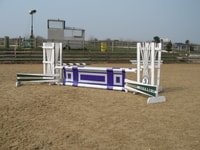 SPECIAL DESIGN 80CM WITH POLE TO MATCH [3MT]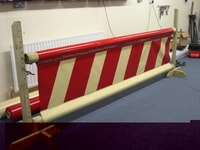 SPECIAL DESIGN FILLER 80CM [3MT POLES]
FREQUENTLY ASKED QUESTIONS 
Q. What happens if my horse knocks down the filler? could he hurt himself?
A. If a horse knocks the filler down it will fall down with the poles. The pvc material used for the filler is flexible and a lot softer than a normal wooden filler so your horse is far less likely to hurt himself than with a standard wooden filler.
Q. Can the fillers and pole sleeves stay outside all year round?
A. Yes they can, they are weather proof and unlike wood they will not splinter and the colour will not come off as they are coloured all the way through.
Q. Will they fall down or ripple in a wind?
A. Any strong wind can cause the standard fillers/ poles to fall down. However, if your fillers are going to be situated in a windy area, we can insert slits within the material to allow the wind to pass though. On request we can also insert an eyelet in each corner where a bungee cord can be tied which in turn is attached to the pole and this allows the filler to be stretched more tightly to the pole. (We can supply bungees for tying).
Q. What advantages are there in using your fillers instead of the wooden ones I have?
A. Our fillers have fantastic advantages over the wooden ones – wood generally rots and the paint chips. Our fillers will not rot or need re-touching. Our pole sleeves mean that you will never have to paint a pole again! However, we cannot say that the sleeves and fillers won't scuff if knocked – they may scuff as any wooden pole/filler would.  Our huge range of colours means that you are spoiled for choice with the patterns/ designs you can choose. Our fillers and pole sleeves can be jet washed as well when needed.
Q.  How do I put the fillers up? What does the price include?
A. The fillers have a pole sleeve at the top and one at the bottom. A pole is pushed into each sleeve and then placed on each jump cup of the jump wing. The price for the fillers includes the whole thing ie the filler with the 2 sleeves. The individual pole sleeves are sold separately and slide easily over a pole with the aid of a small loop at one end. The price includes vat.
You can choose colours from our page on our website www.jumpfillers.co.uk/colours
We also have a page on face book. Please visit us and like our page www.facebook.com/EquestrianJumpPoleSleevesFillers
Blank Banner
How Much Will It
Cost?

Calculate Now